Description
Membrane Nitrogen Generators produce nitrogen with a purity of up to 99.5% with reliable membrane technology covering flow rates from a few Nm3/hr to over 10,000 Nm3/hr. This technology is modular in design which enables easy integration into new or existing plant installations.
The membrane uses a filtration principle to separate the nitrogen from the atmospheric oxygen and residual gases. Because of their efficiency they take up only a small footprint and use a small amount of compressed air while generating large quantities of nitrogen.
The core technology of the process is the patented gas separating membrane in a hollow fibre format which is manufactured into modular bundles for easy use in a pressurised system. The compressed air flows into the centre of the hollow fibre membranes where the oxygen and residual gases are diffused through it. The nitrogen molecules pass along the hollow fibre and are passed to the downstream nitrogen buffer tank system tank where the high quality nitrogen is ready to use.
Membrane Nitrogen Generators are equipped as standard with touch control panels, upgradable expansion options and low maintenance valve technology.
How Membrane Nitrogen Generation Works
Membrane Nitrogen Generation uses filtration to separate nitrogen from atmospheric air that is passed through an air compressor into the generator. The dry compressed air stream is passed through bundles of semi-permeable hollow fibre filtration membranes that are configured into a cartridge style. Under pressure, oxygen, water vapour and other trace gases permeate through the micro porous structure of the hollow fibre filtration membranes. The nitrogen passes along the hollow fibres to the outlet to be further filtered and used in the process.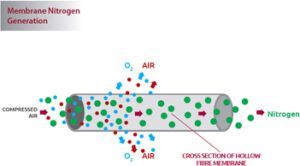 Multiple Membrane Nitrogen Generators can be connected together to enable larger flow rates.